Run ManyCam, navigate to ManyCam's Audio tab.
Find Audio Input toolbox and try adjusting Sync Offset to set a custom delay for your microphone. You might need to experiment with this setting to find the correct value. Make sure that your microphone is added as an Audio Input device, otherwise, Sync Offset will not be available.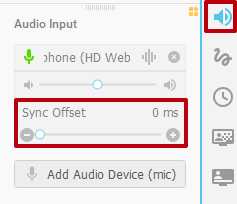 The default step size of the delay correction is 10 ms. Holding down the Ctrl key while adjusting the delay will increase the step size to 100 ms.