Add a level of professionalism to your video productions with the ManyCam Lower Third feature. Highlight important news, add your name, location, or other information to your broadcast. You can add a lower third over the video stream and add your own text in place of the default one.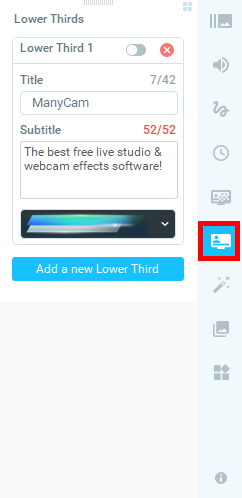 Click the ON button to activate or deactivate Lower Third on your live video window.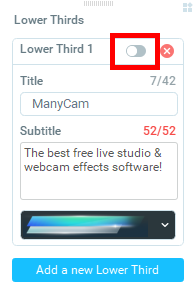 There are 5 types of animated Lower Thirds available by default. Left-click on a Lower Third to see the full list.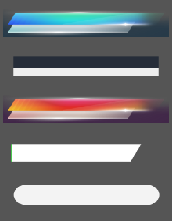 You can add as many Lower Thirds as you like by clicking on the "Add New Lower Third" button. In case you want to remove a Lower Third you created previously, click on the little cross sign next to the title. You can add and edit Lower Third's title and subtitle.
Creating your own Lower Third effects
You can create the Lower Third effects following the guide on creating ManyCam effects. Please note that creating your own animated Lower Thirds (or any other animated effects) is not supported at this time.
To create a Lower Third effect on our website, select Object as Category, and Lower Thirds as Sub-category.
Please note that in order to create your own lower third effect, you'll need to use an image that already contains the desired title and subtitle.