Compatibility & Requirements
MacOS:
WebEx Meetings has recently removed support for virtual webcams from their macOS application, therefore ManyCam is not able to connect to it. We're currently in communication with WebEx Meetings to help get Virtual Webcams back up and running, but at the moment we have no updates from WebEx Meetings or Apple themselves.
In the meantime, WebEx Meetings is recommending that users join their conferences using the "Join from browser" feature when they would like to use Virtual Webcams in a video conference.
You can find information on how to do this here. Proceed with this troubleshooting guide if ManyCam Virtual Webcam is not listed as a Camera option on the web version of WebEx Meetings.
In the short term, we're also looking at internal workarounds that would allow you to use the basic features of ManyCam, and we will try and keep everyone posted if we receive any more information and what the next steps might be.
Windows:
Make sure your WebEx Meetings app is up-to-date. You can download the latest update here.
How to connect ManyCam with WebEx Meetings
Navigate to WebEx Meetings Settings: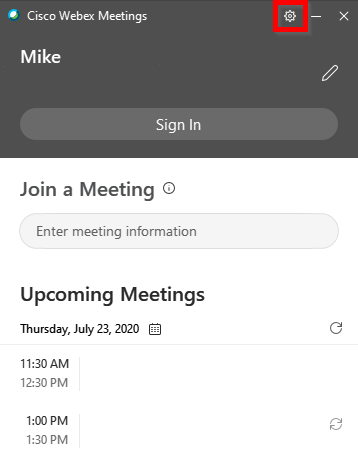 Select ManyCam Virtual Webcam as Camera, and ManyCam Virtual Microphone as Microphone.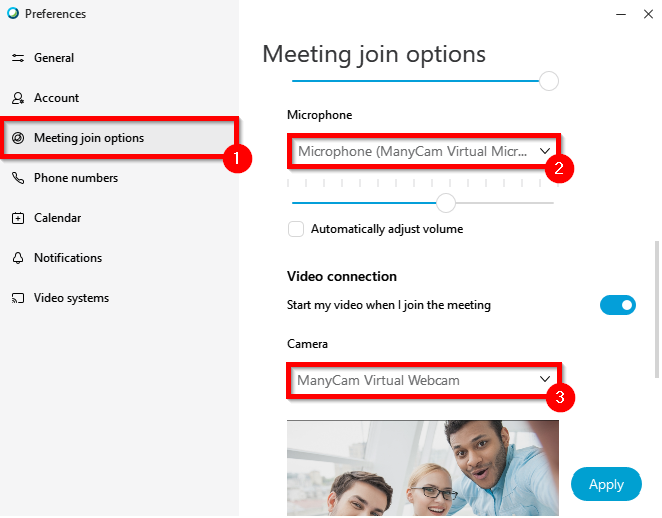 ManyCam & WebEx Meetings Tutorial
This video below is a detailed ManyCam demo and tutorial on WebEx Meetings. Learn how you can use different video sources, use picture in picture, add your Powerpoint presentation, remove your background, add lower thirds, and much more.
0:00:12 – Connect ManyCam to Webex Meetings
0:00:23 – Add Video Sources
0:00:32 – Video Playlist
0:01:01 – Chroma Key
0:02:10 – Virtual Backgrounds
0:02:28 – Lower Thirds
0:03:00 – Drawing Tools
0:03:36 – Media Switcher
0:03:52 – Settings
0:04:36 – RTMP Streaming