Note: this feature is available in Enterprise subscriptions only.
If you've purchased a ManyCam subscription, you can share it with anyone in just a few clicks.
At no extra cost, people you share your Subscription with get all the benefits included in your Subscription plan. They will not get access to any of your files.
In case you wish to install ManyCam for yourself on another device, you don't need to share your ManyCam subscription with yourself. Simply install ManyCam on a new device and sign in to your ManyCam account in the ManyCam app.
How to share your ManyCam Subscription
1. Sign in to your ManyCam account on our website. Be sure to use the same ManyCam account that you used to purchase your subscription.
2. In the My Subscriptions section, click on the Share button next to the subscription name: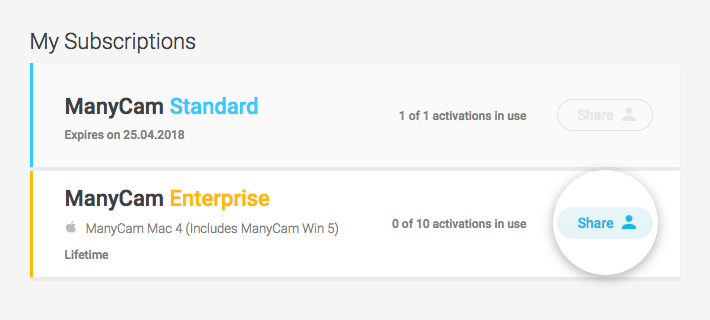 3. Enter the email of a person you want to share your subscription with: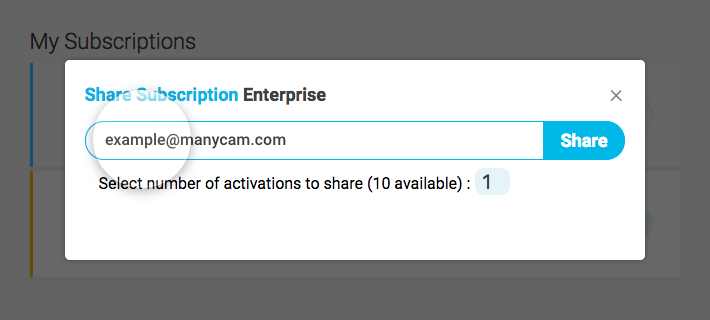 4. Select a number of activations you want to share and click on the Share button: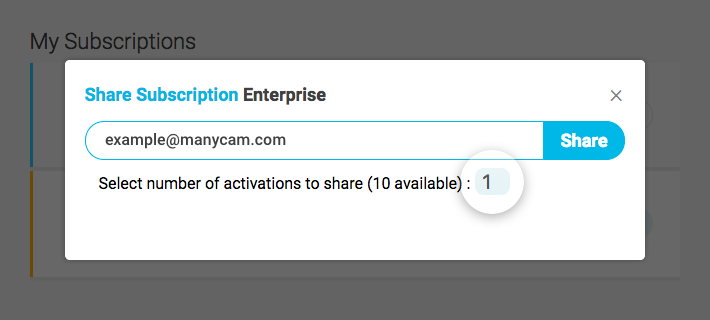 How to activate a shared subscription:
When you share your subscription with someone, they get an email from ManyCam saying that you've shared your ManyCam subscription with them.
To activate a ManyCam subscription, one will require their own ManyCam account and ManyCam 5.8 (or higher) for Windows or ManyCam 4.6 (or higher) for Mac installed. If they don't already have a ManyCam account, they can create one here (it's free). Please note that accounts are created by users only. The account has to be associated with the email you sent an invitation to.
Download and install ManyCam
ManyCam is available on our website for free. You can easily download it in one click here even if you don't have any subscriptions at all. See also How to download and install ManyCam.
Activate shared subscription
Once ManyCam is installed and the person you shared your subscription with sees the subscription in their account under My Subscriptions section, they can proceed with subscription activation. See How to activate my ManyCam subscription
Before you share with someone: Think about how many activations you want them to have and discuss it with them. As the owner of the ManyCam subscription, you can take back any activations from your ManyCam account.
Before someone installs ManyCam: Make sure that their machine meets the system requirements.
Manage shared subscriptions
On the My Subscriptions page, you can manage all of your shared subscriptions.
For example, if you ran out of spare activations or want to start sharing your subscription with other people, you can take back any number of activations you've previously shared.
When you take back your subscription from someone, they lose all their ManyCam subscription benefits. ManyCam will not be uninstalled from their machine; however, once you take back your activations, it will be deactivated right away leaving the user with a Free version.
To take back a subscription you've previously shared, click on the shared subscription: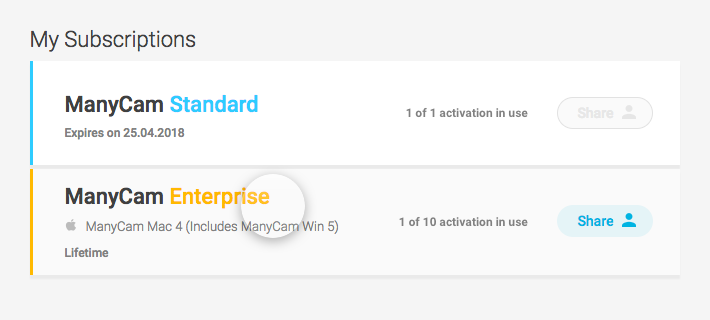 On the opened list, you will see all of your activations being shared: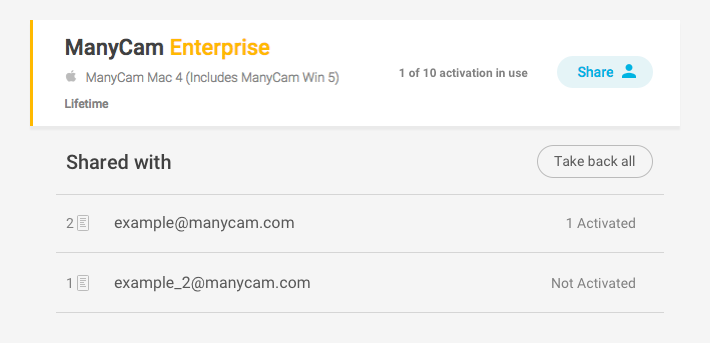 Click on the Take back button next to the shared activation to take back one activation. You can take back any number of activations you've shared.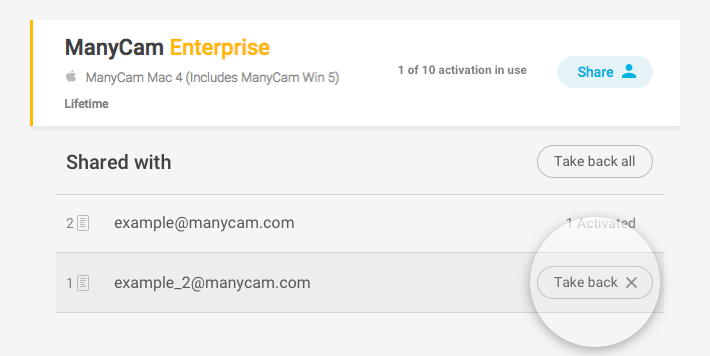 You can take back all of the shared activations at once: