Intel® Quick Sync Video is a technology that allows to offload some tasks such as video decoding and encoding to the GPU and reduce the CPU usage. ManyCam 6 has widened the range of supported encoding options and now allows utilizing Quick Sync along with the default encoder used in the previous versions. This guide will show you how to enable Intel® Quick Sync Video on desktops with external GPU (e.g. Nvidia).
Important:
This guide does not apply to machines with Intel GPU (no external card) or laptops with Nvidia Optimus technology,
This new feature is currently available for RTMP streaming and Video recording only.
Requirements:
Intel CPU with Intel GPU and hardware acceleration support,
latest ManyCam 6,
latest Intel GPU drivers.
Check your hardware specifications
Find your CPU at Intel Product Specifications website and make sure Intel® Quick Sync Video feature is on the list of your CPU specs and marked as "Yes".

Enable internal graphics in BIOS / UEFI
Reboot your machine, enter the BIOS and find and enable internal Intel® graphics (iGPU, integrated graphics).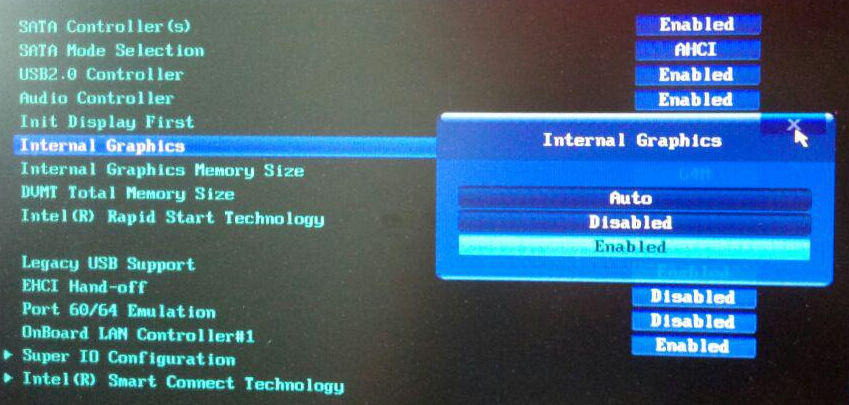 BIOS / UEFI settings for internal graphics
Update your Intel GPU driver
Download and install the latest drivers for your graphics adapter from Intel Download Center.
Select the Intel Quick Sync encoder option in ManyCam's RTMP settings
The option will be grayed out until all requirements are met.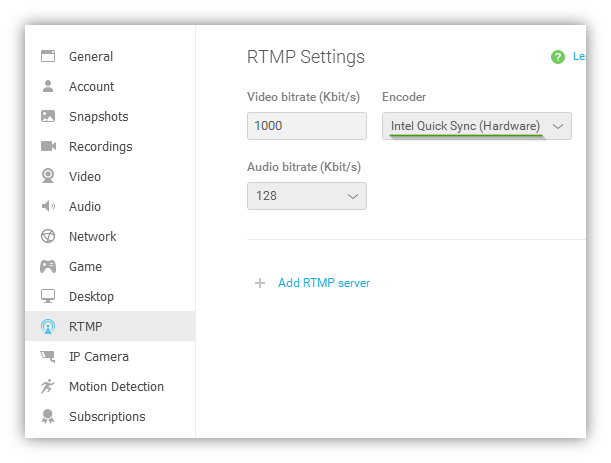 Recording
In case you need to use the Intel® Quick Sync encoder for video recording, go to ManyCam's Recordings settings and select the encoder the same way as in RTMP.