Your Webcam
By right-clicking on Main Live window you can select your webcam as a video source in ManyCam.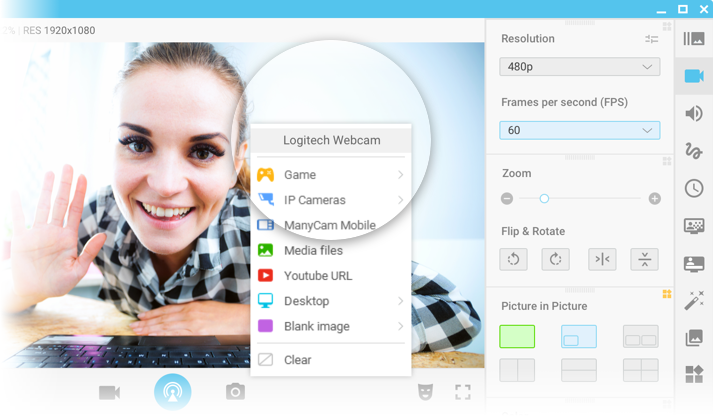 IP Cameras
Here you can select an IP camera as a ManyCam video source. By default, the list is empty until an IP camera URL or IP addresses are entered.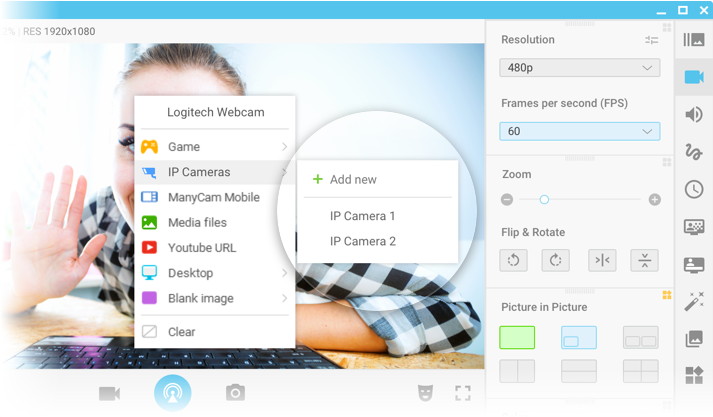 Learn how to connect your IP camera.
---
ManyCam Mobile
ManyCam mobile app for Android and iOS allows you to use the camera of your mobile device as a remote video source for your ManyCam Windows application.
Here's a short video showing how to link your mobile device to ManyCam Desktop
Find out more about ManyCam mobile!
---
Media files
Here you can choose media files stored on your computer as an output image.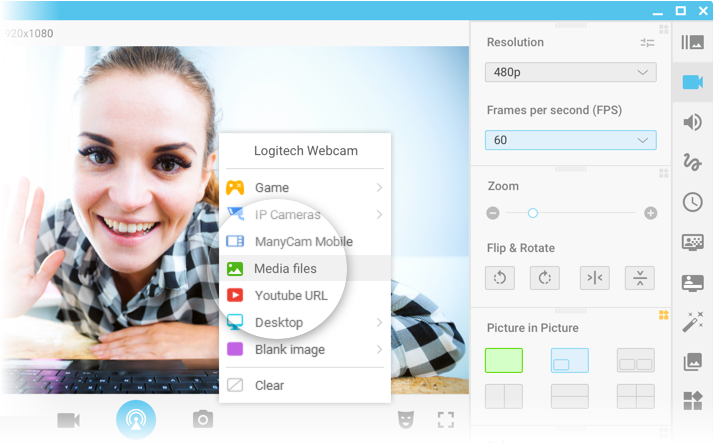 ---
Youtube URL
This feature allows you to stream YouTube videos in your Main Live window as an output video feed. Paste the YouTube Video URL in the field.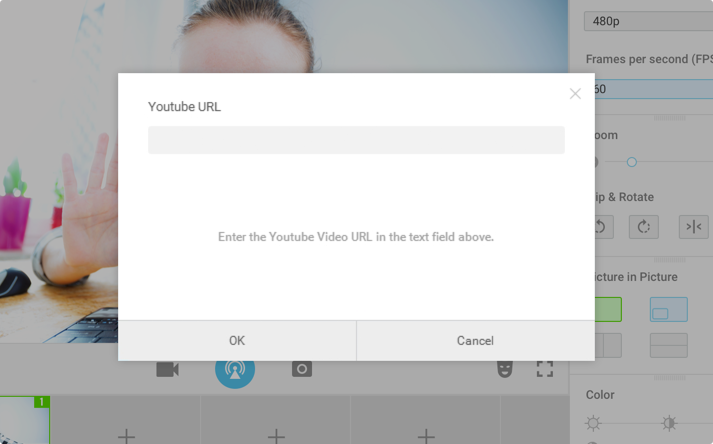 You can pick the quality of the video by clicking on SD or HD indication in the bottom-right corner of the preview image.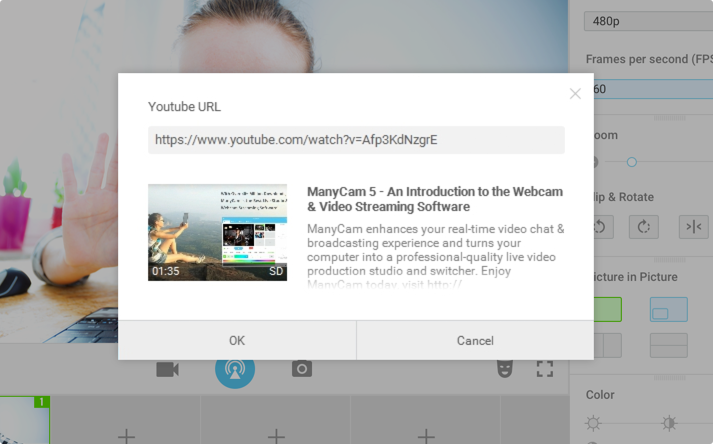 Press "OK" to use the video as a source in ManyCam.
---
Desktop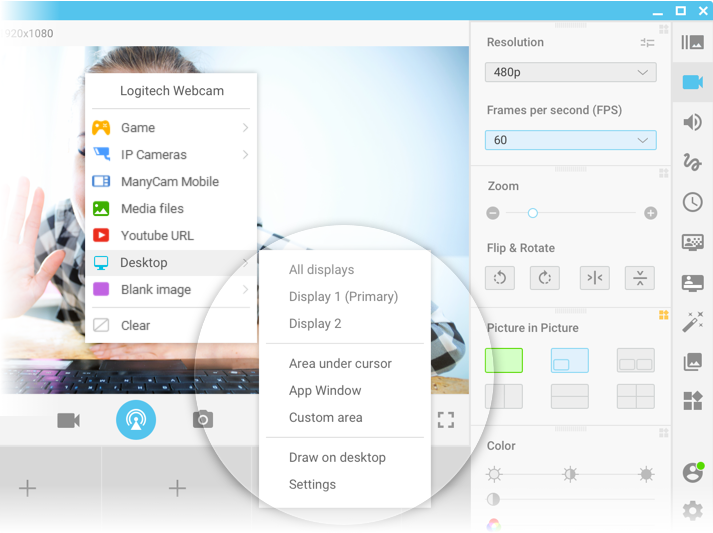 The ManyCam Desktop capture features allow you to grab frames directly from your desktop. You can grab and screencast your entire monitor, a custom selected area, a particular application window or the area under your cursor.
Capture your entire desktop area and use it as a video source in ManyCam.
If you have more than one monitor, you will be able to capture each of them independently or both at the same time.
Area under cursor
Area under cursor option allows you to capture a custom sized area around the cursor.
The red rectangle shows you which area is currently being captured.
You can adjust the size of the area using the Zoom feature.
App Window
With the App Window option  you can simply select the desired application window.
The selected app will be captured and used as a video source in ManyCam. Please note that other apps may also be captured when they appear at the foreground of the selected app.
Custom area
Custom area mode provides a convenient movable canvas so you can see the area that you are capturing. You can also drag and resize this area.
Draw on desktop
Draw on desktop feature allows you to draw directly on the desktop capture. Please note that you most likely want to use this feature along with one of the other desktop capture modes (e.g. Custom area or Fullscreen) because this drawing tool doesn't do the capture for you.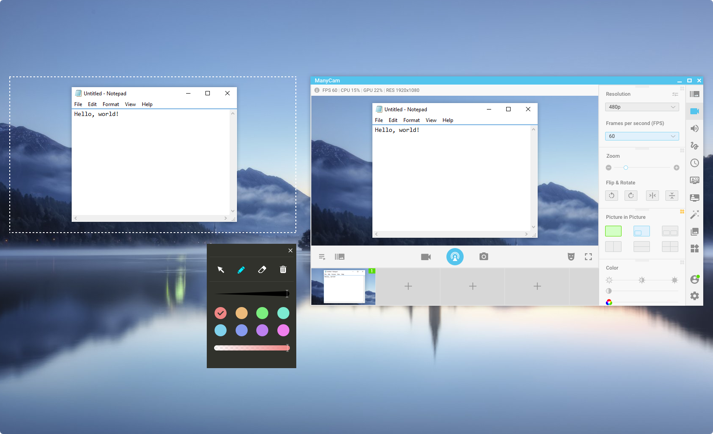 Settings
Some advanced settings are available in the ManyCam settings dialog.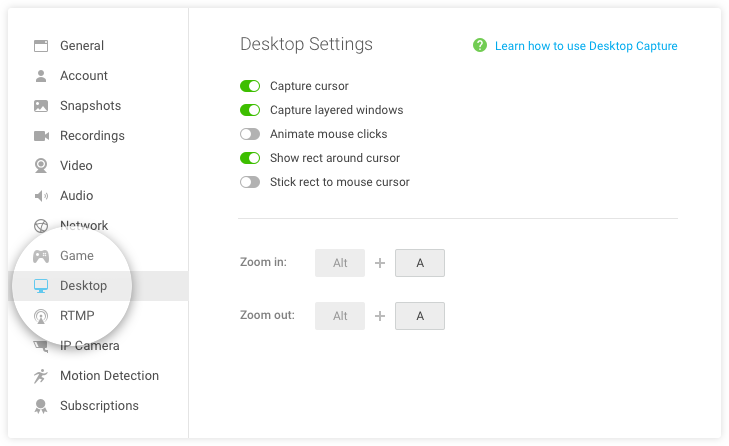 Capture cursor
Defines whether your cursor will be visible on the video feed.
Capture layered windows
Uncheck this option to slightly improve performance. As a drawback, some menus may not be captured so do this at your own risk.
Animate mouse clicks
By default, there is an animation around your cursor when you press left mouse button.
Uncheck this option if you want to disable it.
Zoom
Set up hotkeys for Zoom-in and Zoom-out actions.
Show rect around cursor
Shows red rectangle around your cursor while zooming or in "Area around cursor" mode.
Stick rect to mouse cursor
When using Zoom or "Area around cursor" mode, you can choose whether to move the area immediately after the mouse was moved, or make it follow the cursor.
---
Blank image
You can use a blank image as your video input source. You can choose the background color.